sss Twitter video downloader hd tool allow you to save tweets to your device (mobile or PC) for free. You can download videos from Twitter in full hd with public account privacy settings.
Download Twitter videos as many as you wish. Our Twitter downloader does not limit the number of videos you can save for free. The best part of our tool is the speed: depending on your internet connection, you can get downloadable links in ~2 seconds. Each video is available for downloading with at least three quality options: from high to low.
Download Twitter video by using our website
Our sss Twitter video saver, helps you to download video from Twitter (X.com) in hd faster and with fewer stops than the copying and pasting method. Twitter video downloader works perfectly in any browser, mobile, and desktop. Find out how to save Twitter video and convert Twitter video to mp4 with our website by reading the 'how to' instruction below.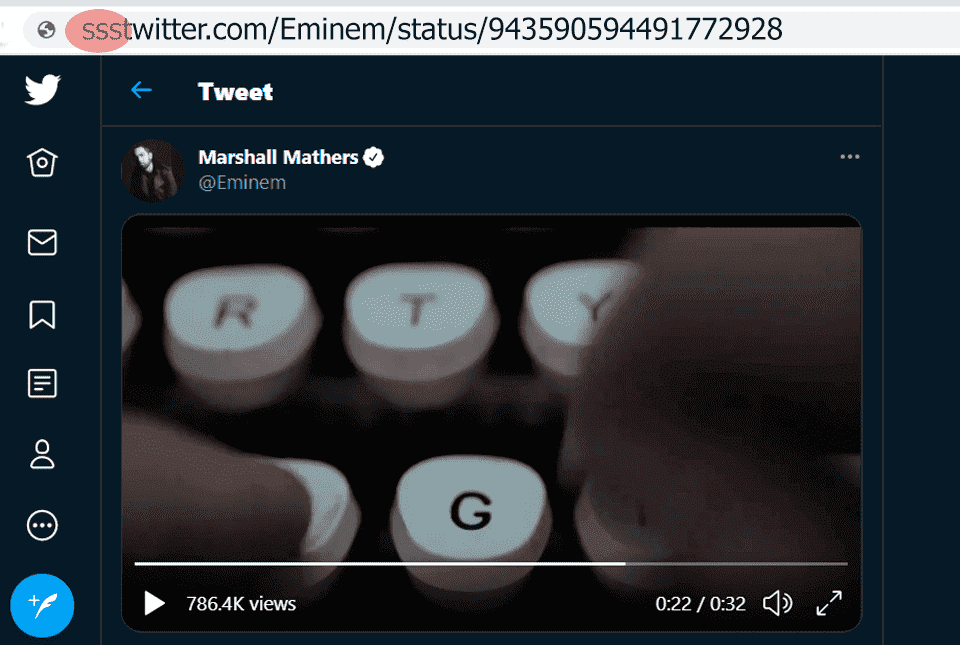 Simply paste the link in the input field and then press the "ENTER" button to save the video!
Please, make sure that:
You are on the page, which displays a single tweet;
This page contains a video;
See an example below.
These are original links:
https://twitter.com/Eminem/status/943590594491772928
https://mobile.twitter.com/Eminem/status/943590594491772928
Note! sss Twitter video saver does not contain copyrighted material and does not support unauthorized file sharing, all videos are stored directly from the Twitter CDN.
---
How to use the Twitter downloader app?
You can start the download video from Twitter process via our website on any device with an installed browser and with any OS (Windows 7, 10, Mac, Linux, Ubuntu etc). Compared with browser extension, downloading via our website is easy, the only difference is that you need to do one additional step. See all info below.
Copy tweet URL
Find the video you want to save from Twitter and copy the link from the address bar. If you are in the official app, copy the link from the "Share" popup bar.
Paste into the input field
Open the sss Twitter video downloader website in a new tab and paste the tweet URL in the form on top of the page. Then click the "Download from Twitter" button on the right to get the page with links to the video.
Download Twitter videos
Once you press the button, in a couple of seconds you will see a page with links for saving. Then you can download video from Twitter with different quality options.